Our Design
Our moccasins are designed to be stylish, functional, eco friendly, affordable, and personal. Wow, that's a lot all in one shoe!
Each pair is handcrafted just for your little one. We have hundreds of prints and styles to choose from. If you'd like any color changes or changes to the design, feel free to contact us! We love customs.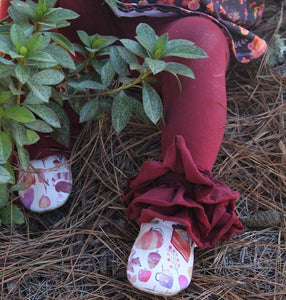 Did You Know...
All of our moccasins are made out of vegan products (meaning no real leathers!). Soft soles have been proven to be the best choice of shoes for babies and toddlers learning to walk. Soft soles are lightweight and allow your child to feel the ground, all while keeping those little piggies protected. Elastic is sewn into all of our shoes so ensure they stretch and stay on comfortably.